Weddings Displays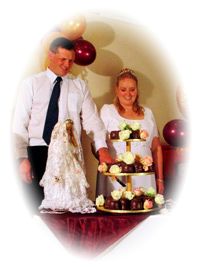 We specialise in designing and creating beautiful balloon displays especially for weddings and special events. And our decorative Bows add that touch of elegance that will make your special day unique.
We can colour coordinate our balloons and Bows to match your chosen wedding colours very closely, if not perfectly. We also have themed 'wedding' balloons and ribbons to make your wedding displays even more special.
What You Can Do To Make Your Day Exceptional:
Dance Floor Dcor
Table Centre Pieces
Wedding Table Dcor
Helium Balloon Releases
Helium Balloon Bouquets
Balloon Archways & Pillars
Wedding Cake Table Dcor
Wedding Bows for Pews etc.
Our Grand Wedding Show display at the Edgar Centre, Dunedin.
We are Certified Balloon Artists and can provide stunning displays for any occasion. From designing through to creation and installation, we can tailor balloon displays to tie in with almost any colour and theme and occasion.
With balloons the sky's the limit!
Wedding Displays - Audio Clip