Helium Balloon Bouquets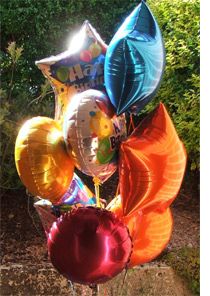 Please select the type of Helium Balloon Gift to purchase or view
Helium Balloon Bouquet
Balloon in a Box
Helium Balloon Bouquets have long been associated with fun, romance and special occasions. Never before has there been such a variety of helium balloon colours, shapes and themes to suit your special occasion.
We provide Balloon Displays and Helium Balloon Gifts in the Dunedin & Otago area and can now make your Helium Bouquets stay up for weeks, not days!
Two of our most popular types of Helium Balloon Gifts (that have been ordered online as far away as Ireland, USA, Malaysia, Australia and even Brunei!) are Helium Balloon Bouquets and Helium Balloon in a Box.
You can view, order and purchase these now for DisplayBiz to deliver on the date you specify!
Order your Custom Made Bows to coordinate beautifully with our Helium Bouquets, Balloon in a Box or other special events you may have!
Helium Balloon Displays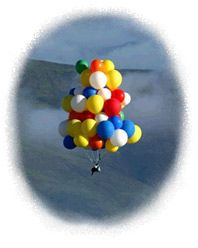 Helium Balloon Displays add that extraordinary look to create an experience to remember! And for Corporate or Personal Displays, we can make your Helium Balloon Displays stay up for weeks, not days!
View all types of Helium Balloon Gifts
We are Dunedin based Certified Balloon Artists and can provide attention getting displays to create the atmosphere for your special event. With helium balloons the sky's the limit!
Select the Helium Balloon Feature type you are interested in:
Balloon Archways
Novelty Party Balloons
Helium Balloon Releases
Custom Made Helium Balloon Features
Wedding Balloon Dcor (For entrances, table centrepieces, cake table, wedding photo backdrop, etc)
Helium Balloon Bouquets - Audio Clip